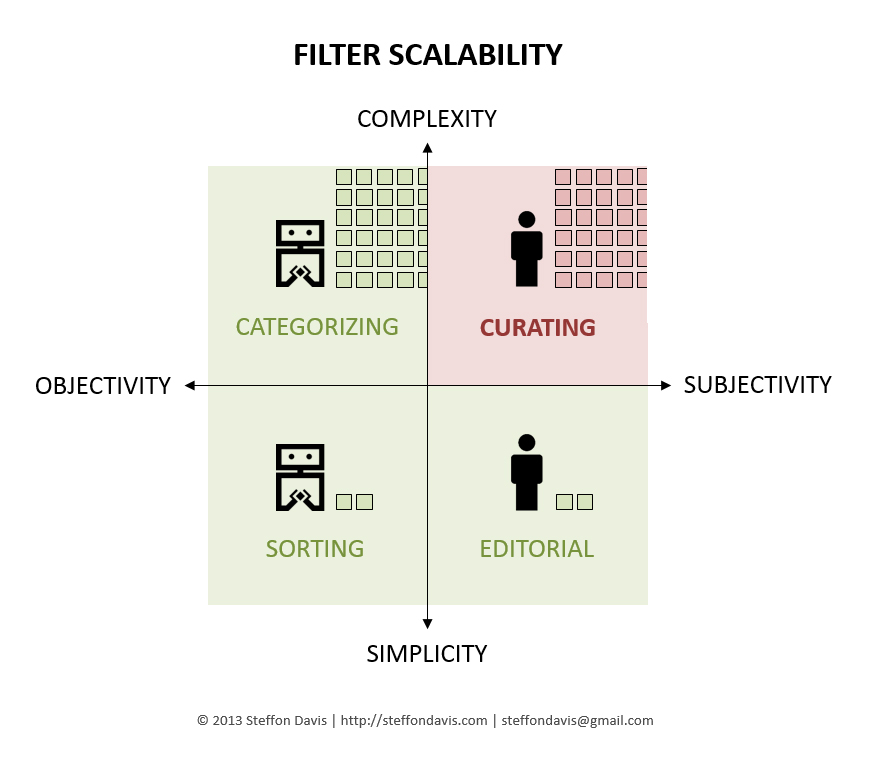 Caption: The filter scalability diagram plots the four content filters across the dimensions of objectivity and subjectivity and simplicity and complexity. The curating filter, both complex and subjective, is at the highest risk of overload.
[box]Curation fundamentally needs a technology that connects people with people, not people with machines.[/box]
The Content Filter Framework shows us that there are 4 fundamental content filters: sorting, categorizing, branding, and curating. Yet, each filter scales differently with technology and we experience filter overload with each of them differently as well.
The information technology revolution has made objective, computationally friendly filters like sorting and categorizing exponentially more efficient. However, applying the same technologies to branding and curating is like asking your calculator to interpret poetry; it just doesn't compute. Subjectivity requires the emotions, creativity, and culture found in the human mind and heart. While the information age yielded powerful cures for sorting and categorizing overload, branding and curating remain bound to humans. Which is to say, largely inefficient.
But while branding and curating do not benefit from computation, each are not equally susceptible to overload. Specifically, branding, a comparatively simplistic subjective filter, is not at as high of a risk of overload. Take a book editor for example. While an editor may feel overwhelmed with manuscripts to review, the combined branding obligations of the department (for example, biographies) and publishing house (for example, important literature) significantly narrows the editor's selection criteria (to important biographies). At end, the branding filter dramatically simplifies the editor's choice: the manuscript it either an important biography or not.
Curation has no such restraints. Imagine the same editor again, but now tasked with selecting manuscripts to meet demand for every genre and interest globally. Like a person indexing the internet manually, it's a ludicrous proposition. The problem isn't lost on Erin Griffith at PandoDaily either: she just wrote the piece, This Curation Trend has One Big Problem: Scale.
This is not to say that technology cannot play a pivotal role in scaling the curation filter. But what is clear is that it will fundamentally be a technology that connects people with people, not people with machines.
Curation doesn't scale easily (click here to tweet this article with this message)