[box]• The Independent published the 1st of these data visualizations in the article Invasion of the algorithms: The modern-day equations which can rule our lives on March 9, 2015[/box]
Big data and art don't usually go together. Until now that is. Here at Curalytics, we've teamed up with Curiator, an art community, to provide big data analysis of their curation data. On Curiator, everyone is an art curator and creates their own collections of art in "rooms". It is with these rooms of art that our analysis begins.
Curalytics, as the portmanteau implies, is a curation analytics service. We analyze curation data, such as curated rooms of art, and reveal insights about the community such as the taste groups and the taste leaders of those groups. These insights power advanced functionality and analytics.
With our shared enthusiasm for art, curation, and big data, Curalytics and Curiator have collaborated on an art project of our own: a visualization of the taste groups on Curiator. Using the rooms of art curated by their community, Curalytics applied curation analysis, identified the taste groups, and visualized the connections, resulting in a taste map: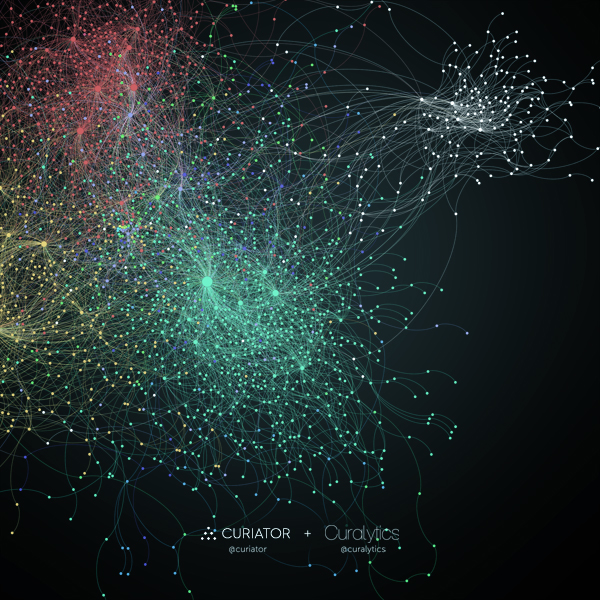 A zoomed-out perspective: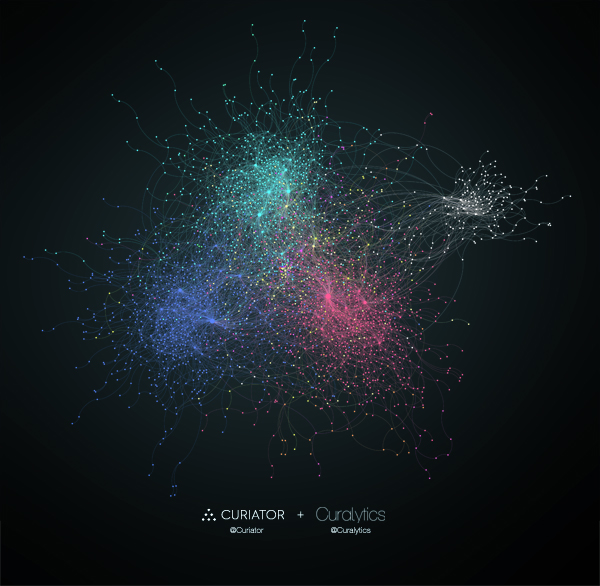 About the taste map:
Rooms that have art in common form taste groups.
Lines connect similar rooms to taste groups which in turn connect to similar rooms.
Colors highlight "macro" taste groups within the community. Like continents on a geographic map, the red, aqua-marine, yellow, and white masses reveal large affiliations of taste. The smaller clusters within the colored macro groups form the local "geographies" of taste: the countries, states, and townships of taste, if you will.
Larger circles identify taste hubs that have a lot of connections. They are like the major cities on a map.
If you'd like to take a closer look, you can download a HD 2000x2000px version of 1st the taste map here and a HD 2000×1953 version of the 2nd one here. Thank you to Tobias from Curiator  for help getting the data ready and to Moenen from Curiator for applying your design skills and making the visualization "pop"'.
Click here to tweet this message: "See a visualization of curation analysis on art"